Shoreline Amphitheatre | Mountain View, California
The almost official start to the Bay Area summer festival season is here! Audiotistic Bay Area Festival Day 1 at Shoreline Amphitheatre on Saturday, July 9th 2022. Insomniac's Bay Area festival returns to its normal place to start off the real summer season, get ready and grab some tickets for an absolutely packed day, while the lineup is still to be announced, you know you are guaranteed an excellent day of cutting-edge rap and hip hop to electronic genres drum & bass and dubstep. Festival headliners, on Saturday, this year is Chris Lake on the Frequency 1.1 stage and SVDDEN DEATH on the Frequency 2.2 stage, be sure to not miss these sets!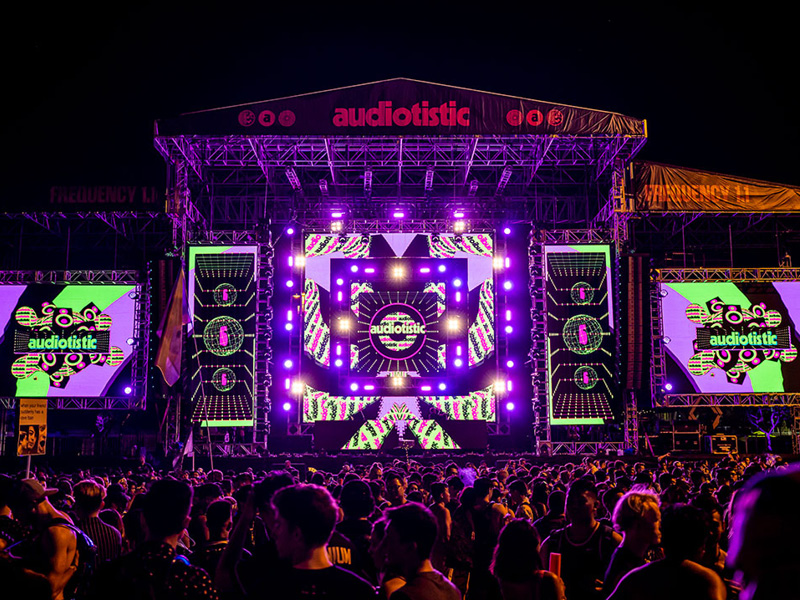 The lineup for Saturday, July 9th is:
A Hundred Drums, Audien, Bleu Clair, Bloodsport (SAYMYNAME B2B Riot Ten), Blunts & Blondes, Chris Lake, Codeko, Com3t, Jon Casey, JVNA, Mersiv, Said The Sky, Schoolboy Q, SIDEPIECE, Svdden Death, Tsu Nami, Tsuruda B2B Chee, and WHIPPED CREAM.
Headlining the Frequency 2.2 stage is Bay Area native Danny Howland, better known as SVDDEN DEATH, giving unforgettable performances, he has formulated a hybrid of textured rhythms and sub-wrecking baselines to create his own maniacal sound. Taking inspirations from Noisia, 16BIT, Skrillex, and other legends in the dubstep community, SVDDEN DEATH goes a step above the rest with his aesthetic choices and incredible theatrics, this is a scene that is constantly changing, and few have risen through the trenches, to have stirred the bass community to such a degree.
Audiotistic features 2 perfectly spaced stages, Frequency 1.1 and 2.2 set in opposite ends of the lawn, to completely avoid the sound bleed that occurred in 2018, and is primarily a music festival, so you won't be getting roaming circus performers or walk through fish tanks, stages are no-frills, just a series of LED panels, lasers, and pyro, but feature world-class sound and the very best of lineups every single year.