Shoreline Amphitheatre | Mountain View, California
Unquestionably one of the greatest songwriters of a generation, Bob Seger comes to Shoreline Amphitheatre (with, of course, The Silver Bullet Band) on Thursday 26th September 2019 on the Roll Me Away Tour! Their last stint on the road, the tour sees the legendary group perform all their biggest hits like "Still The Same," "Night Moves" and "Hollywood Nights", as well as other classics and b-sides!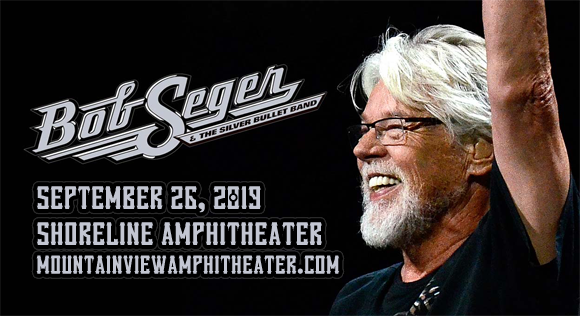 American singer-songwriter, guitarist and pianist Bob Seger has sold over 75 million records throughout his six-decade career, making him one of the world's best-selling artists of all time. Beginning his music career in the 1960s, Seger performed around Detroit as part of Bob Seger and the Last Heard, going on to subsequently perform with Bob Seger System, who had a hit in 1968 with the track "Ramblin' Gamblin' Man". He formed the Silver Bullet Band in 1973, and they made their debut three years later with the six-time platinum-selling album Night Moves. The group enjoyed a string of hit singles throughout the 1960s and '70s, including "Turn the Page", "Still the Same", "We've Got Tonight", "Against the Wind", "You'll Accomp'ny Me", "Shame on the Moon", "Like a Rock", and "Shakedown" (written for the 1987 hit film Beverly Hills Cop II). Seger was inducted into the Rock and Roll Hall of Fame in 2004, and the Songwriters Hall of Fame eight years later.