Shoreline Amphitheatre | Mountain View, California
Flight of The Conchords comes to Shoreline Amphitheatre on Tuesday 28th June 2016
What happens when you combine alternative music with comedy? You'll be rockin' your heart out and rollin' on the floor with laughter! Yes, New Zealand-based comedy band, FLIGHT OF THE CONCHORDS, induces that kind of binary effect. These oddballs who have built quite a huge following from their television HBO series, are treading the live concert trail. And just like your modern day pied pipers, legions fans are on the pursuit for tickets to the show. Your curiosity is egging you to buy tickets, right? No use resisting… give-in and get your hands on those tickets now!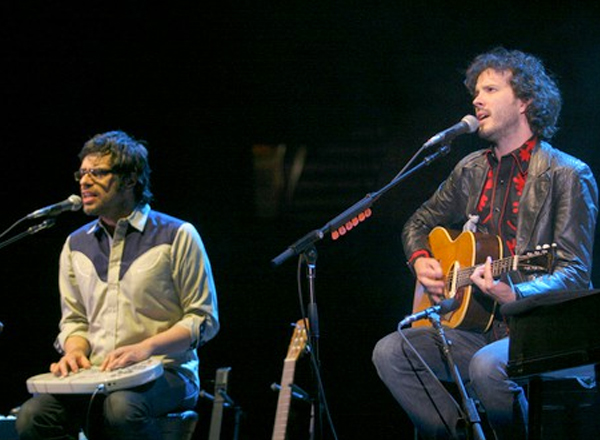 From down in New Zealand, Flight of The Conchords are now soaring high and trotting the globe with their guitar-based musical comedy. They used to describe themselves as "New Zealand's fourth most popular guitar-based digi-bongo acapella-rap-funk-comedy folk duo". Now, they refer to themselves as "the almost award-winning fourth-most-popular folk duo in New Zealand."
Formed in 1998, Bret McKenzie and Jemaine Clement first performed live as part of a five-man group. But the band eventually evolved into a twosome, and they've been performing live in stand-up comedy stages and television shows. Their deadpan wit, quirky lyrics, and hilarious stage presence, and not to mention the cult following they were attracting, led to groundbreaking shows at the BBC radio series and then an American television series that aired for two seasons on HBO. Not only the fans were amused. Critics and reviewers also got a belly-full of laughs from their style of folk meets parody. They bagged several awards including Best Alternative Comedy Act at the 2005 US Comedy Arts Festival and Best Newcomer at the Melbourne Comedy Festival, and also clinched a Grammy for Best Comedy Album at 50th Annual Grammy Awards.