Shoreline Amphitheatre | Mountain View, California
Incubus fans, prepare to get very exited indeed. Your favourite band are going on tour in 2017 with Jimmy Eat World! These two epic bands will land in the Shoreline Amphitheatre on Wednesday 16th August – get tickets now! Promoting the band's first release in over SIX YEARS, this is definitely going to be a sellout show!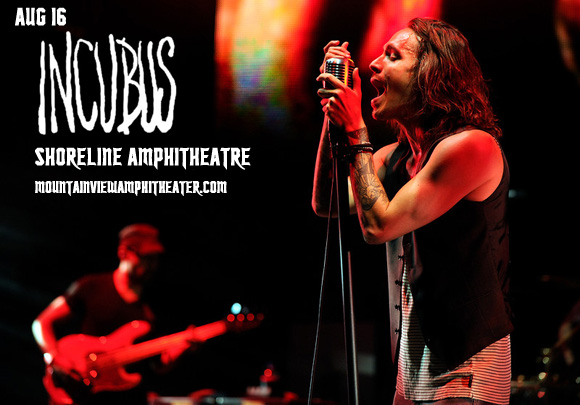 Trying to describe Incubus is tricky, as the band have covered so many genres and styles in a relatively short career span. Over time, they've been described by critics as alternative metal, art rock, electro, funk, funk metal, rap metal, thrash metal, and jazz-pop. They've even used a diverse range of world instruments including the pipa, djembe and sitar, leaving critics scratching their heads at how to classify them.
Interestingly, before breaking into the mainstream in 2001 with "Morning View," Incubus were often classed as nu metal alongside bands such as the Deftones and Korn. However, when quizzed about this, singer Brandon Boyd clarified the separation on ethical grounds, stating that unlike the other bands, they didn't write misogynistic lyrics – too right!
Stylistically, Incubus have never aimed for one genre or another, rather just writing "what comes out," but according to the band, what's coming out right now is a return to their guitar-led roots, which is likely to please their very oldest fans the most, who have stuck with them through every transformation and seen the rise of their fanbase worldwide.
You're about to be rewarded now – the wait is over! Buy tickets to see Incubus and Jimmy Eat World before they go!!