Shoreline Amphitheatre | Mountain View, California
It's time to call your very own little superstars as the acclaimed children's pop music group, KIDZ BOP, is dominating 2023 with a brand-new tour. The Never Stop Live Tour will set the stage for non-stop pop hits, made for the kids! Stopping by at FivePoint Amphitheatre on Sunday, 10th of September 2023, KIDZ BOP Live will also welcome new members, performing today's biggest hits including tracks from Taylor Swift, Lizzo, and Harry Styles. Bring the whole family to the party by booking your tickets now!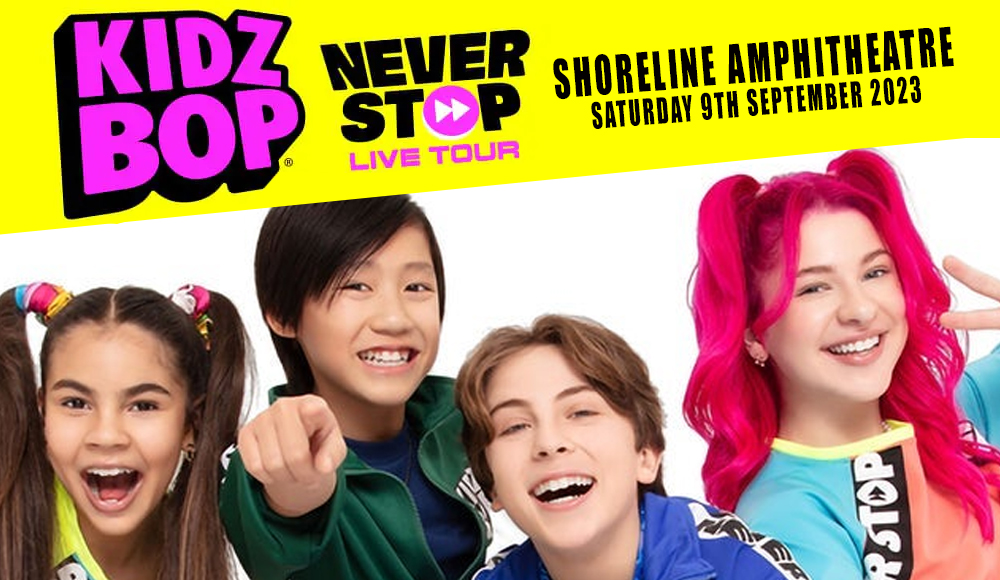 As pop music continues to take over the world, it isn't necessarily made for the little kiddos. With its irresistible catchy tunes, KIDZ BOP remakes today's biggest hits into family-friendly renditions, performed by little superstars. Since 2001, the award-winning kids' music group has performed kid-friendly versions of classics and pop hits including songs from Kesha, Lizzo, Taylor Swift, and Michael Jackson.
Produced by Live Nation, KIDZ BOP's Never Stop Live Tour follows a highly-successful comeback tour run last 2022. The brand-new tour promises to bring non-stop pop hits across 37 cities in the US and Canada.
"The family-friendly show will feature new songs, choreography, special effects, and the return of the Daddy Dance Off, giving dads the chance to show off their best dance moves on stage," Live Nation shared in a statement. "KIDZ BOP has sold more than 23 million albums and generated over 8 billion streams globally since 2001."
With amazing costumes, astounding set designs, special effects, and energy-filled choreography, non-stop fun is in store for families at the Never Stop Live Tour. The show will also welcome new members Jackson, Kiya, Shila, and Tyler to the KIDZ BOP family. Together, they'll be performing pop hits, just after the group released its newest record, KIDZ BOP 2023, a big album including re-engineered versions of "Anti-Hero", "Sunroof", "Late Night Talking", "As It Was", and "About That Time".
Giving kids the pop spotlight since 2001, the group has produced a roster of notable alumni who made it big in the industry such as Ross Kynch, Zendaya, Kiana Brown, and Becky G.
Don't miss out on this chance to bring the whole family on an amazing concert experience at KIDZ BOP LIVE, Never Stop Live Tour, by booking those tickets now!