Shoreline Amphitheatre | Mountain View, California
If you like your metal with funk and hip hop flavors, then you have one hell of a summer coming up – Korn is teaming up with Faith No More for the co-headliner of the year, coming to Shoreline Amphitheatre on Friday 14th August 2020! That's right, Jonathan Davies, Mike Patton, and their respective crews will be busting out all the hits like "Epic" and "Freak on a Leash" for a roaring audience of fans! Both groups know how to put on one hell of a show, and they'll be joined for this metal fest by System of a Down singer and guitarist's band Daron Malakian and Scars on Broadway, and husband-and-wife fronted sludge metal outfit Spotlights in support!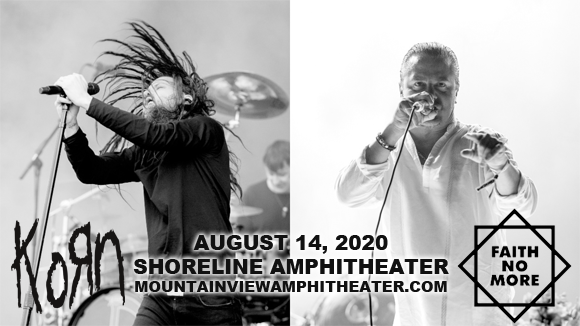 The Faith No More of today is a very different beast from when it started as a rock band in 1979 under the name Sharp Young Men and consisted of bassist Billy Gould, drummer Mike Bordin, vocalist Mike Morris, and keyboardist Wade Worthington. The group changed its name to Faith No Man in 1981 and had its first release. Worthington left the band not long after and was replaced by Roddy Bottum, but the following year, the band, minus Mike Morris, quit to form Faith No More. After that, there were several vocalists that fronted the band, including a short stint with Courtney Love, but the group eventually settled on singer Chuck Mosley, who was its frontman for the band's first two albums: We Care a Lot (1985) and Introduce Yourself (1987). Despite having some success with Mosley, the band found its stride when he was replaced with Mr Bungle singer Mike Patton in 1988. Within two weeks of joining the band, he had written all of the lyrics for the songs on Faith No More's 1989 Grammy-nominated album The Real Thing, including the single "Epic," which went on to hit number nine on the Billboard 200. Their follow-up, Angel Dust (1992), was also a success, and the band went on to release two more albums before disbanding in 1998. Unexpectedly, in 2009, the group came back together for a year-long tour and has been sporadically active ever since, releasing the album Sol Invictus in 2015.