Shoreline Amphitheatre | Mountain View, California
Are you ready for Live 105's BFD 2017 on the 10th June 2017??? Held every year at Shoreline Amphitheatre in Mountain View, the 105 BFD features four stages of at least 30 bands every year, providing you with a day of more music than you could possibly want at the Bud Light Festival Stage, the Subsonic Tent, and Local Stage. At night, the headliners take to the main stage!!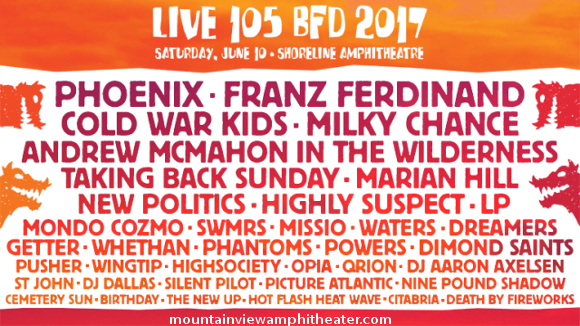 This year, the festival sees French alternative rock band Phoenix, resurrected for their first Bay Area in 5 years!! The band are back on tour after a long break since their 2013 album "Bankrupt!" with a 30-second teaser of new music and a mysterious new image on their website that looks a lot like an album cover – hinting at their first new material.
Also headlining are Scottish indie rockers Franz Ferdinand. The last few years have seen many exciting developments for the band, including a shift in sound with their first dance-rock album "Tonight: Franz Ferdinand" in 2009, and joining forces with Sparks to form the supergroup FFS in 2014, with their debut self-titled album released in 2015. Who knows what they'll be up to next!!
The full line-up includes headliners Phoenix and Franz Ferdinand, Cold War Kids, Milky Chance, Andrew McMahon in the Wilderness, Taking Back Sunday, Marian Hill, New Politics, Highly Suspect, LP, Mondo Cozmo, SWMRS, Missio, Waters, Dreamers, Whethan, Phantoms, Powers, Dimond Saints, Pusher, Wingtip, Highsociety, Opia, Qrion, Aaron Axelsen, Saint John, DJ Dallas, Silent Pilot, Picture Atlantic and Nine Pound Shadow, and more to be confirmed!!
What are you waiting for?? Get your tickets to Live 105's BFD TODAY!!!