Shoreline Amphitheatre | Mountain View, California
Fans can no longer fight the feeling, anticipating for the best of times as REO Speedwagon, Styx & Loverboy are all set to get the show on the road again. These legendary rockers will light up the stage of the Shoreline Amphitheatre on Friday 15th July 2022, as part of their "Live & UnZoomed" tour. Styx's Tommy Shaw said in a statement, "I can't think of a better way of touring the USA next year than with good friends we've known for years and performed with on many a stage. What a great night of music this will be!" Fans couldn't agree more, and will undoubtedly be there to experience great music from such phenomenal bands. Lock it in and book your tickets now!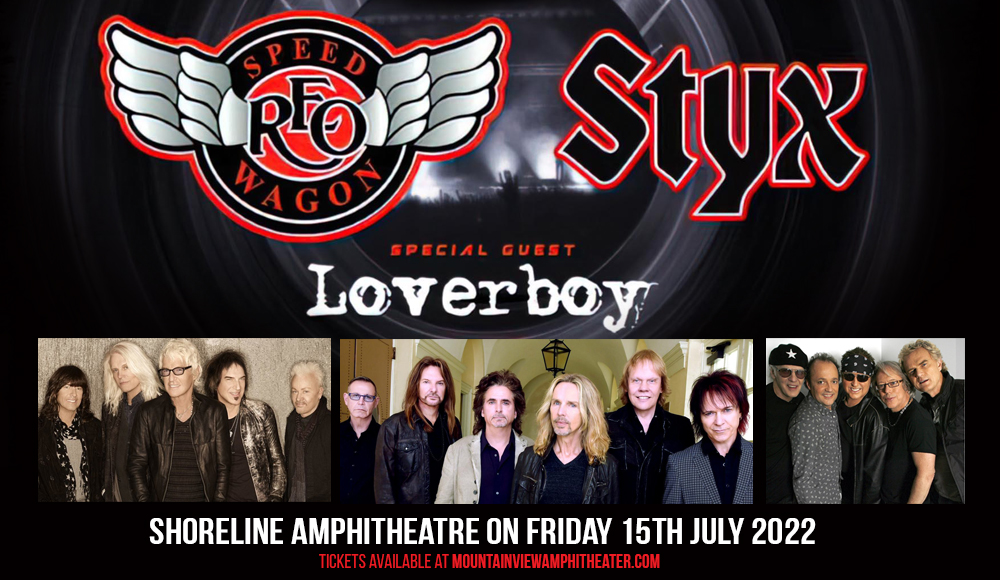 Stop looking down on your mobile phones or staring at your computer screens. It's high time to look up and across the concert stage and get your ears pumped up by anthemic rock and power pop songs from classic rock and quintessential bands REO Speedwagon, Styx & Loverboy; This is the moment to go "Live & UnZoomed" !
Styx is a progressive rock band whose signature style incorporates elements of power ballads, electric and acoustic guitar riffs with international musical theatre. With over 20 million records sold, the band gained worldwide prominence with their timeless hits such as "Renegade", "Boat on the River", "Mr. Roboto", "Babe", "The Best of Times" and many more. Styx is an ever-active touring band and in fact, has shared the stage with REO Speedwagon some four years ago. REO Speedwagon has also been touring relentlessly over the years. Fans troop to their concerts to take a sonic nostalgia trip via their numerous top 40 hits which include "Can't Fight This Feeling" "I Do' Wanna Know", "One Lonely Night", "In My Dreams", and many more.
REO Speedwagon's Kevin Cronin said, "Tommy (Shaw of Syx) and I have done a number of Zoom performances together during the pandemic, and REO and Styx are ready to go get UnZoomed, and out on the road for our fifth U.S. tour together. Add our great friends Mike Reno and the Loverboy guys, and I am totally psyched. If I wasn't performing in it, I would totally come out to see this show. See you all, LIVE and UNZOOMED!"
Have a lit night at this literally live concert. Get your tickets right here, right now!