Shoreline Amphitheatre | Mountain View, California
Shout, shout and let it all out at the Shoreline Amphitheatre on Thursday 2nd June 2022 as Tears For Fears gets on the live stage. The phenomenal act that has spawned massive global smash hits such as "Everybody Wants To Rule The World", "Head Over Heels", "Shout", "Mad World", among many others, have sent waves of elation and excitement among fans as they officially announced dates for their headlining tour dubbed as "The Tipping Point World Tour". Joining Tears For Fears on their US tour dates is post-grunge rock band Garbage. TFF fans are now in a mad frenzy scouring for tickets. Don't be left behind. The 'Get Tickets' link right up on this site is one of the quickest and easiest ways to score tickets for you and your gang of friends. Book your tickets now!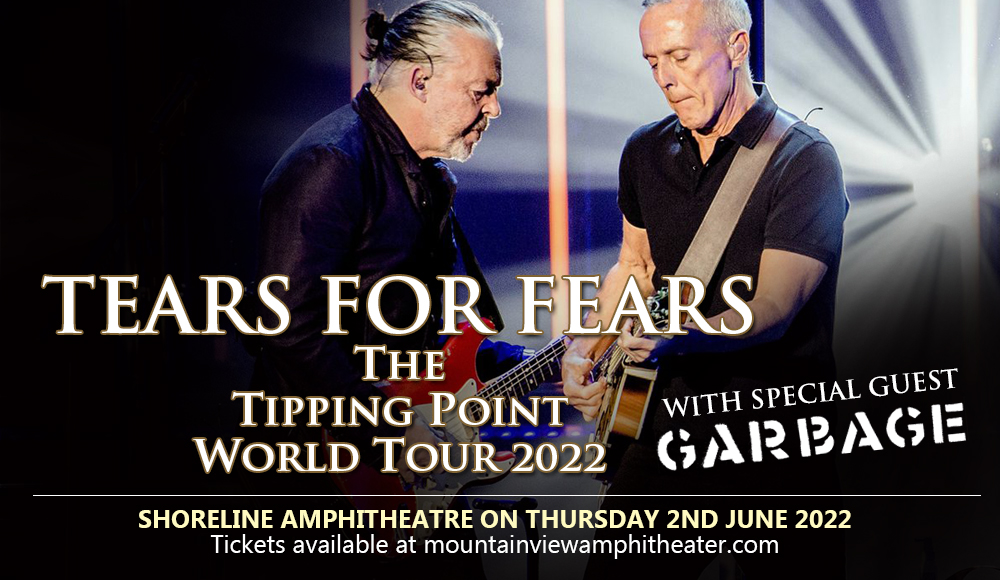 Tears For Fears are the dynamic duo of dark-hued synth-pop that emerged from Bath, England, and became one of the most phenomenally successful acts from the so-called second British invasion. From their debut album, "The Hurting" (1983) down to their 2004 reunion album "Everybody Loves A Happy Ending", eager anticipation and enthusiasm never waned from their loyal fanbase. And that time of waiting and patience was put to the test as Tears For Fears has not come up with a follow-up album for 17 years!
Now the long wait is over! As the duo released the lead single from the upcoming album title track "The Tipping Point", TFF fans from all over the world are now on fire, hotly holding on till the release of the album in February 2022.
A few years before, however, some fans have grown impatient and expressed dismay. In recent interviews, Roland Orzabal, as the prime songwriter of the group revealed an emotionally moving reason as to why it took them so long…
"I needed some respite from the constant illness [and] the constant dysfunction," as Orzabal revealed that he had to care for his then sick wife, Caroline, who passed away in 2017. This was one of the events in his life that triggered the songwriting process. Orzabal further explains, "and as per usual, as I've always done all my life, they went into lyrics and songs."
The duo also revealed that they've had several false starts in making the album, seeking more 'current music' collaborators, which in the end somehow didn't feel right. Orzabal narrates that with himself and Curt going back to basics, that is when everything started coming together. "Before everything went so right with this album, everything first had to go wrong, it took years, but something happens when we put our heads together. We've got this balance, this push-me-pull-you thing – and it works really well."
Now with the album ready to roll, Tears For Fears would be reeling down the concert circuit and make people shout and let it all out once again.
"We couldn't be more excited to start playing concerts again," says Curt Smith. "We've missed seeing our friends on the road around the world and the energy of performing live."
Catch Tears for Fears & Garbage at Shoreline Amphitheatre on Thursday 2nd June 2022. Get your tickets now!