Shoreline Amphitheatre | Mountain View, California
Are you ready for Train and The Goo Goo Dolls?? With special support from Allen Stone, they're on tour together in 2019 – hitting the Shoreline Amphitheatre on Saturday 15th June 2019!! Be in that crowd and get ready for all the feel-good vibes singing along to the hits – book your tickets to see Train and The Goo Goo Dolls NOW while they last!!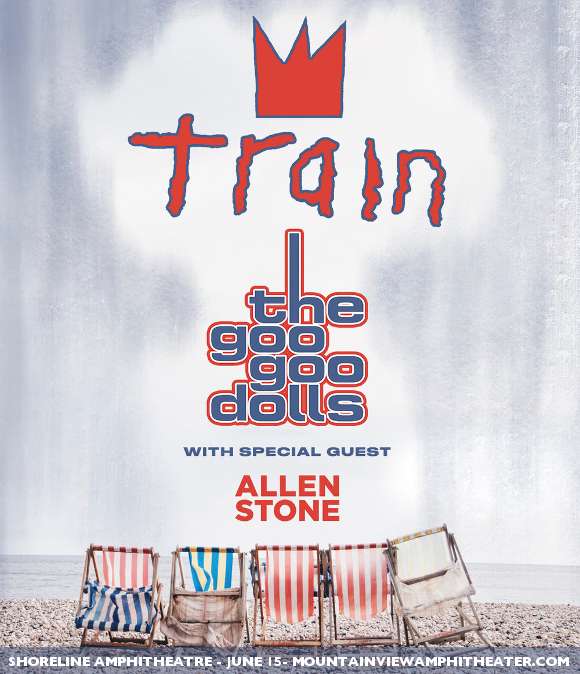 Formed in Buffalo, New York, by Johnny Rzeznik, Robby Takac, and George Tutuska, the Goo Goo Dolls are best known for their phenomenally successful single, "Iris," which held the number one spot on the Hot 100 Airplay chart for 18 weeks and stayed in the charts for nearly a year!! The virtually unparalleled success of the single has resulted in it being the band's best-known work, but the Goo Goo Dolls have plenty other singles that have been hits, including "Name" and "Naked" from the 1995 album "A Boy Named Goo", and :Black Balloon", and "Broadway" from "Dizzy Up the Girl", the album featuring "Iris," and the stand-alone single "Home". An astonishing 19 of their singles have hit the top 10 in the charts, and they have sold over 12 million albums around the world. Their output has been consistent, delighting fans with no less than 11 albums, the most recent of which was "Boxes," in 2016 – and the band have confirmed they are hard at work on another!
There may be a few surprise songs on June 15th – who knows?? There's only one way to find out!