Shoreline Amphitheatre | Mountain View, California
Are you ready for a night filled with hardcore and alternative rock music by two of America's best rock bands? Witness the multi-platinum-selling bands Alice in Chains and Breaking Benjamin come together for the first time for a co-headlining tour. These two iconic bands will make a stop at the Shoreline Amphitheatre, Mountain View, California, this Monday, September 5, 2022. Together with the British band Bush, Alice in Chains and Breaking Benjamin will definitely put on a memorable night of rock music in the famed venue, making it one of the hottest concert events of the summer. If you don't want to miss this incredible concert experience, make sure to order your tickets here! Click on the "Get Tickets button" now.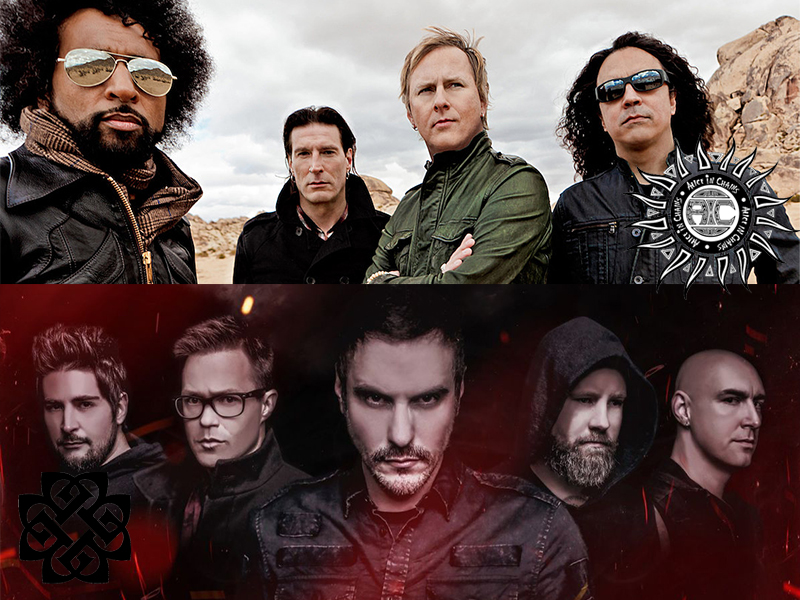 With their most iconic single, "Man in The Box," Alice in Chains is considered an instrumental force in the grunge music scene. In fact, many music critics regard the band to have brought grunge music to the mainstream. Even though Nirvana and Pearl Jam are the ones deemed as two pillars of the rock sub-genre, it is Alice in Chains' sublime 1990 debut album Facelift that started it all.
Alice in Chains is a rock band from Seattle, Washington, formed in the late 80's. The songs "Would?," "Rooster," and "Them Bones" propelled the band to further success. From 1990 to 2018, the band released six studio albums. The latest one released in 2018 is entitled "Rainier Fog."
With over 30 years behind them and 30 million records sold, the band had countless awards and nominations from different award-giving bodies such as American Music Awards, Billboard Music Awards, Grammy Awards, and many more. The band was also given the esteemed "Icon Award" of Kerrang! Awards and Metal Hammer Golden Gods Awards in 2009 and 2013, respectively. They were also recently honored in 2020 with the Museum Of Pop's "Founders Award." Indeed, they have blossomed into important musicians over the years. Their upcoming tour with Breaking Benjamin and Bush marks their first tour dates in nearly three years.
This is also Breaking Benjamin's concert appearance for quite some time who, like any other artists, needed to postpose planned events due to the pandemic. This Pennsylvania-native American rock band was formed in 1999 by lead singer and guitarist Benjamin Burnley and drummer Jeremy Hummel. Throughout their career's ups and downs, they were able to cement their names in the industry through hits like "Dear Agony," "Dance with the Devil," and "Give Me a Sign (Forever and Ever)." The band was able to release six (6) studio albums, with "Saturate" as its debut in 2002. and "Ember" as the most recent one released in 2018. Their recent hits "Aurora," and "Far Away," prove Breaking Benjamin's relevance to the contemporary rock music scene.
"We're looking forward to finally hitting the road again this summer. It's been too long and we can't wait to get outdoors and share a night of music with our fans again," said AIC's Sean Kinney in an interview about the upcoming tour.
The two bands will be touring along with the British rock band Bush. Formed in the early 90s, Bush has given the rock world hits like "Glycerine," "Come Down," "Machinehead," and many more!
With this epic lineup, we can expect nothing but the best concert experience that will surely blow your socks off! So make sure to book your tickets here before they run out!