Shoreline Amphitheatre | Mountain View, California
After last year's roaring success on the road, multi-talented singer-songwriter Ben Folds & '90s alt-rock sensations Cake have teamed up once more for a co-headlining tour that comes to Shoreline Amphitheatre on Friday 13th September 2019!
"We had so much fun with Ben last summer that we decided to do it again, this time in the West," Cake frontman John McCrea said in a statement. Cake multi-instrumentalist Vince Difiore added: "Last year we had the great honor to tour with Ben, who inspired us with incredible musicianship and memorable songs. It was sad to end that tour, so now a great thrill to be anticipating another with the actual artistic advisor to the National Symphony Orchestra."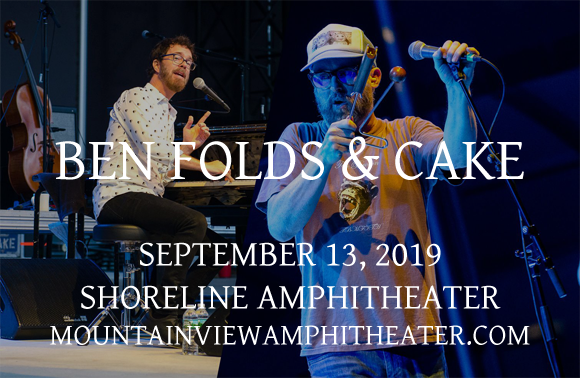 First rising to fame in the 1990s with alt-rock band Ben Folds Five, American singer-songwriter and record producer Ben Folds has had a full and varied career to date. After finding success with the band, Folds embarked upon a solo career in 2000, and has released three albums and three EPs as a solo artist, in addition to his four studio albums and one live album with Ben Folds Five. He has also found success as a producer, having produced Amanda Palmer's debut album, Who Killed Amanda Palmer (2008), and he has collaborated on projects with a variety of different musicians and authors, including William Shatner, Regina Spektor, "Weird Al" Yankovic, Nick Hornby and Neil Gaiman, among many others. Folds was a judge on the NBC a cappella singing contest The Sing-Off from 2009 – 2013, and in 2017, he wrote the soundtrack for the Netflix original film Handsome. He is also currently employed as Artistic Advisor to the National Symphony Orchestra at the Kennedy Center in Washington, D.C.