Shoreline Amphitheatre | Mountain View, California
That's right, the band that brought you "Mr. Jones," are back! In celebration of 25 years together as a band, Counting Crows are taking to the road with support act Live!! It's all happening on Friday 6th July 2018 at the Shoreline Amphitheatre – tickets selling out quick, so don't delay in getting yours!! Click the "Buy Tickets," button above now to book your place at the show.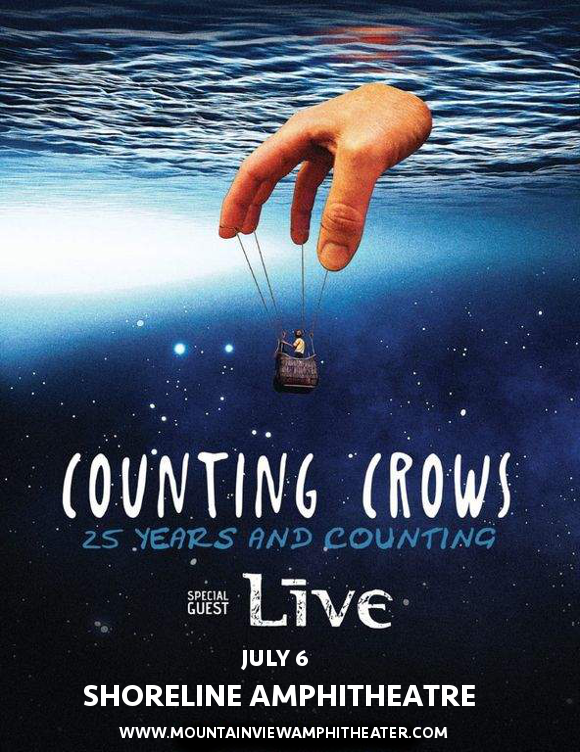 With 40+ dates on the trek, Counting Crows are celebrating their 25th anniversary in a big way. And they've got a lot to be proud of – breaking through with their album "August and Everything After," featuring the massive hit "Mr. Jones". Since then, the band have gone on to release a series of bestselling albums and play sold-out tours. Despite the song being the one that brought the band massive fame, they're still more than happy playing it 25 years on at live shows.
"I can see where it would be really easy to feel pressured into playing 'Mr. Jones' and start to hate it," vocalist Adam Duritz said in an interview. "But we've been pretty good throughout our career with the idea that if we don't want to play it, it just won't get played. My feeling is people deserve your complete passionate commitment. They deserve that…They deserve you being up there playing your ass off."
And that's exactly what you're going to get – so what are you waiting for?? Grab your tickets to see the Counting Crows with Live NOW while stocks last!!