Counting Crows & Matchbox Twenty - Tickets available.
Shoreline Amphitheatre | Mountain View, CA

---
What a treat for fans of 90s alt-rock, as radio-favorites Counting Crows & Matchbox Twenty team up for A Brief History of Everything Tour! After having a whale of a time on tour with the Crows as a solo act last year, frontman Rob Thomas now brings the rest of the band with him to Shoreline Amphitheatre on Friday 21st July 2017 for a night of solid gold hits!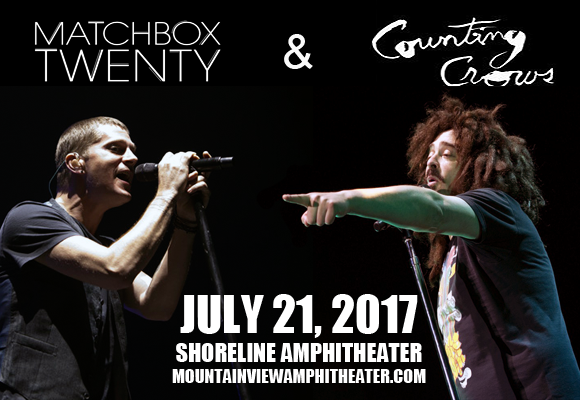 Founded in 1991 by Adam Duritz (lead vocals, piano) and David Bryson (guitar) as a duo, Counting Crows is an American alternative rock band that now consists of Charlie Gillingham (accordion, keyboards), Dan Vickrey (lead guitar), David Immerglück (guitar, banjo, mandolin), Jim Bogios (drums) and Millard Powers (bass). After Geffen Records signed the band in 1993, they released their debut album, August and Everything After, which went on to become the fastest-selling album since Nirvana's Nevermind on the strength of the hit single "Mr Jones". They have released seven studio albums to date, selling more than 20 million albums worldwide and in 2004 received an Academy Award nomination for the song "Accidentally in Love," which was included in the film Shrek 2.