Shoreline Amphitheatre | Mountain View, California
Dierks Bentley is back, and this summer he's heading out on the What the Hell Tour! Joined by Cole Swindell & Jon Pardi, Bentley comes to Shoreline Amphitheatre on Sunday 20th August 2017, and he's looking forward to partying with his support acts:
"I'm out there away from my family – it's a great sacrifice for them and for the guys in my band, they have family, too," Bentley told People when announcing the tour. "We're out here, life's short; I want to be around good people, good energy, good vibes. And these two are definitely two younger guys that both crack me up and have such great energy. They're both a little crazy, to be honest. They're just in that time in their lives when they're young and they're single and they're going after it."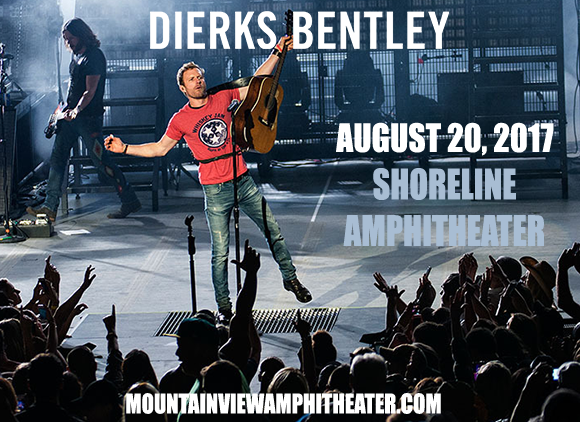 Signed to Capitol Records in 2003, country singer Dierks Bentley had instant success with his self-titled debut album, released the same year, which was certified platinum by the RIAA. Modern Day Drifter, his 2005 follow-up, was equally successful, and since then Bentley has released nine studio albums (including a bluegrass album and greatest hits compilation). Of his eighteen singles, thirteen have reached number one in the charts, and seventeen have reached the top five. Bentley's most recent album, Black, was released in May 2016.