Shoreline Amphitheatre | Mountain View, California
Bringing Westeros to life on the stage with Ramin Djawadi's incredible score, the Game of Thrones Live Concert Experience comes to Shoreline Amphitheatre on Thursday 3rd October 2019! Fans are immersed in the music that has accompanied the Emmy Award-winning show and all your favorite characters for the past eight seasons, plus AV projections and eloborate staging that invokes the spirit of Ice and Fire!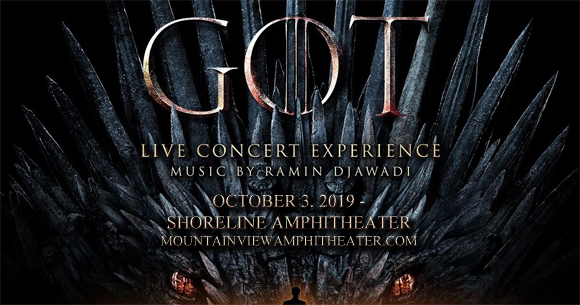 For eight seasons, HBO's epic fantasy show Game of Thrones has delighted, shocked and dismayed fans in one of the most dramatic programs television has ever scene, and throughout it all, celebrated composer Ramin Djawadi's impeccable score has driven the turbulent plot expertly. The Game of Thrones Live Concert Series offers fans the opportunity to immerse themselves in the music of Game of Thrones, as well as enjoying a host of audio-visual treats that enhance the GOT experience just that little bit more. Recognize your favorite characters and kingdoms as Djawadi's themes and musical arrangements once again transport you to Westeros and beyond, with the help of a magnificent choir and symphony orchestra.