Shoreline Amphitheatre | Mountain View, California
It's time for a new age of the biggest pop-rock anthems by the one and only Imagine Dragons. The band behind mega-smash hits "Believer", "Demons", "Radioactive", and many more, is taking on a new era. Following the release of their 2021 record "Mercury – Act 1", Imagine Dragons is embarking on The Mercury World Tour, hitting the stage at Shoreline Amphitheatre on Thursday, September 8, 2022. With act 1 of their latest record out last year, fans have been itching to hear its second act. As 2022 came rising, the band just dropped their newest single "Bones" which gives us a glimpse of the much-awaited Act 2 of Mercury. It's a night of their biggest hits, fan favorites, and new music live on stage. Book your tickets now!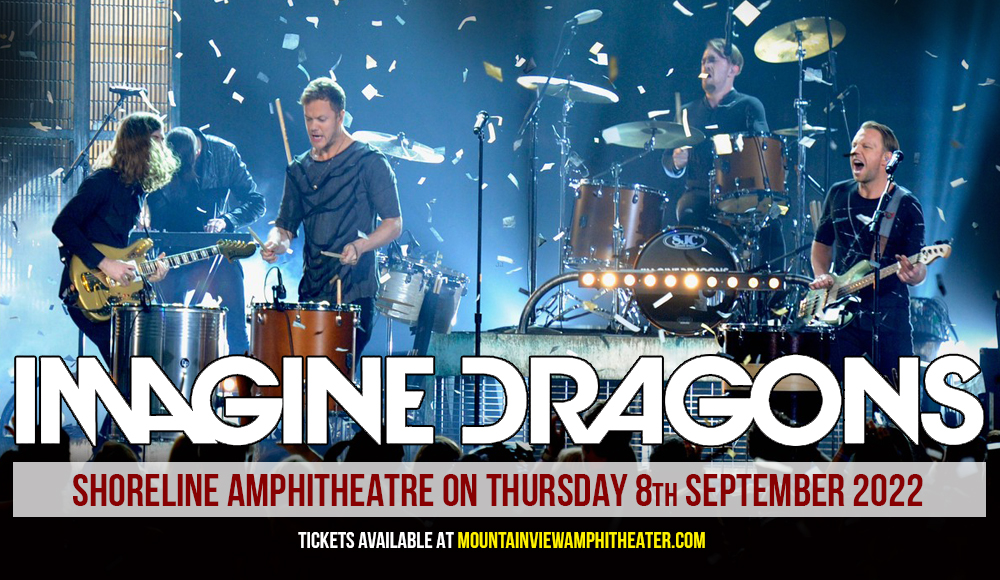 Imagine Dragons took the world by storm with their debut album "Night Visions" in 2012. The album spawned smash hits "It's Time", "Demons", "On Top of the World", and "Radioactive". These singles marked massive commercial success for the band's major-label debut.
Though what seemed like a band that gained massive fame in a short amount of time, Imagine Dragons actually traces its humble beginnings to 2008 when vocalist Dan Reynolds met former drummer Andrew Tolman in university. The two recruited people and eventually formed what we would all know as Imagine Dragons. They released a number of EPs and played small live shows.
2009 marked a highlight for the bands when they performed for over 26,000 people at the Bite of Las Vegas Festival 2009, filling in for Train as Pat Monahan felt ill before the show. They started gaining more attention in the music scene, with Las Vegas Weekly naming them the "Best Local Indie Band 2010".
By 2011, they signed with Interscope and released their debut record "Night Visions" in 2012. The album's single "Radioactive" made history spending 87 weeks in the Hot 100, the longest to do so up until The Weeknd broke the record in 2021.
From then on, Imagine Dragons continued serving radioactive hits that dominated the world in their succeeding albums. More of their smash hits include "On Top of the World", "Thunder", "Follow You", and "Shots". Billboard says that "Believer", "Thunder", and "Radioactive" were 2010's three best performing rock songs.
Imagine Dragons is made up of vocalist Dan Reynolds, Wayne Sermon on guitars, Ben McKee on bass, and drummer Daniel Platzman. Altogether, they continue bringing radioactive energy to the band's music and live shows.
With the release of "Mercury – Act 1" and its second act real soon, fans are pumped up to catch Imagine Dragons performing live on stage on the Mercury Tour. As they sing 'Cause there's magic in my bones in their newest single, the magic is finally coming alive as Imagine Dragons kickstart the tour. So, join the crowd and don't miss out by booking your tickets now!