Shoreline Amphitheatre | Mountain View, California
Host of one of the world's most popular podcasts, stand-up comedian, actor and mixed-martial arts commentator Joe Rogan comes to Shoreline Amphitheatre on Saturday 10th August 2019! The hilarious and insightful comic will be performing brand new (and almost certainly blue) material that gives fans an insight into his fascinating and unique mind!
"One of the most complex and exciting stand-ups working in America today. Like an idealistic hippy stuck inside the body of a testosterone-pumped US marine. He's been likened to late great US comedians such as Bill Hicks and Sam Kinison, but although he exhibits a similar brand of furious indignation, his observations and revelations are entirely his own. His angry, insightful act is an absorbing battle between his raw libertarian instincts and his refined liberal sensibilities."
–William Cook, The Guardian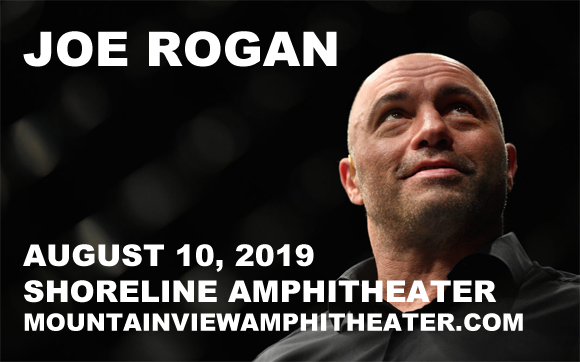 Beginning his career in stand-up in the late-1980s, American comedian, color commentator, podcast host, and retired martial artist Joe Rogan is now best known for his podcast, the Joe Rogan Experience, one of the most watched podcasts in the world. Rogan moved to New York in 1990 to pursue comedy full-time, before relocating to Los Angeles in 1994, leading to an exclusive development deal with Disney, where he worked on the TV shows Hardball and NewsRadio. In the late-1990s/early-2000s, Rogan became involved with mixed marshal arts, and in 2002 he began working for UFC (Ultimate Fighting Championship) as a color commentator. Throughout his time in LA, Rogan continued performing his blue comedy on the stand-up circuit and he released his debut comedy special in 2000. He has released eight comedy specials to date. From 2001 – 2006, he took a break from comedy to host the NBC stunt/game show Fear Factor. In January 2019, the Joe Rogan Experience won the iHeartRadio Podcast award for Best Comedy Podcast.