Shoreline Amphitheatre | Mountain View, California
"What A Song Can Do" is a single lovingly written and dedicated to Lady A's devoted fans for their unwavering support and love through the years — through name transitions, and all… Lady A wishes this message to be heard far and wide as they embark on a tour bearing the song title as their tour name. As part of their headlining tour itinerary, Lady A will be on the live stage, at Shoreline Amphitheatre on Saturday 18th September 2021. Carly Pearce, Niko Moon, and Tenille Arts will be joining them as support acts. Now what you can do is to book tickets as quickly as you can before they get sold out. Click on that 'Get Tickets' link on this site as your quick and sure way to get tickets to the show. Don't miss it!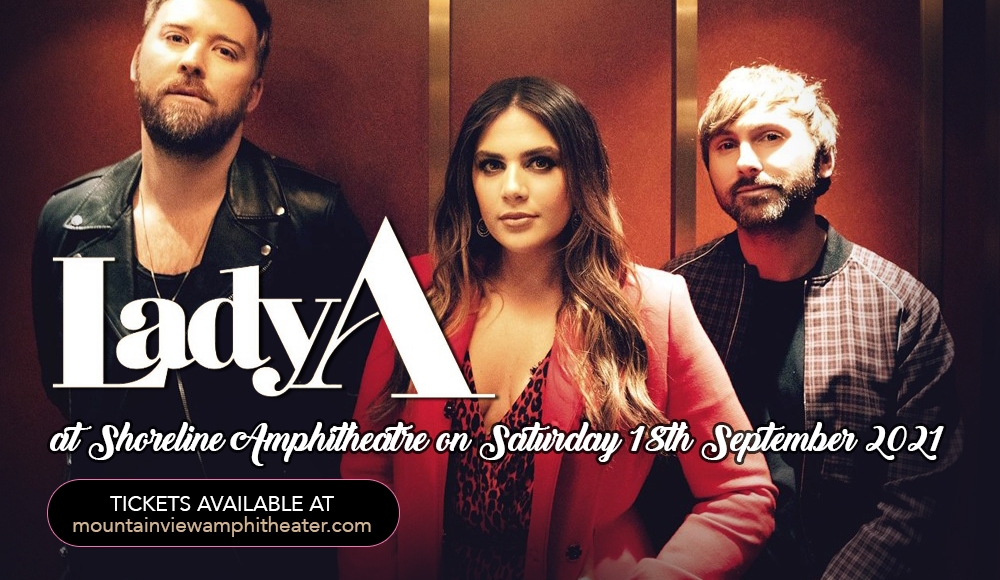 Formerly known as Lady Antebellum, Lady A has definitely come a long way from Nashville, Tennessee, when then grouped together in 2006. Composed of Hillary Scott (lead and background vocals), Charles Kelley (lead and background vocals, guitar), and Dave Haywood (background vocals, guitar, piano, mandolin), the trio instantly and effortlessly crisscrossed genres, having success in both the country and mainstream pop music charts.
Radio airplays and album sales exploded worldwide with mega hits such as "American Honey," "Can't Take My Eyes Off of You," "Compass," "Love Don't Live Here," "One Day You Will," "Downtown," "Things People Say", "Dancing Away With My Heart", "Need You Now", and "Just A Kiss".
Lady A's commercial success also yielded critical success as prestigious award-giving bodies recognized these stunning masterpieces. In 2008, Lady A was awarded Top New Duo or Group by the Academy of Country Music and New Artist of the Year by the Country Music Association. They were on a Grammy winning streak four years in a row. They garnered two Grammy nominations at the 51st Annual Grammy Awards. Bagged two wins at the 52nd Annual Grammy Awards, winning Best Country Performance by Duo or Group with Vocals for "I Run to You". Took home a whopping five awards at the 53rd Annual Grammy Awards, including Song of the Year and Record of the Year for "Need You Now"; then scored "Best Country Album" at the 54th Annual Grammy Awards.
Lady A's 2021 tour expresses gratitude for everything… "This tour is really going to be about letting our fans know how much they mean to us and what music has done for all of us over the last year…which is the essence of the tour name. We started writing a song called 'What a Song Can Do' and it turned into a love letter to our fans," the band's Charles Kelley said in a statement.
"We are gonna soak up these moments on stage more than we ever have before," he adds. "It's gonna be hard to wipe the smiles off our faces and I'm sure the tears off of Hillary's. We were lucky enough to still release new music this past year but there are songs like 'Champagne Night' and 'What If I Never Get Over You' that we haven't been able to play live much so we know those will make for some really special moments."
Truly a special moment that's never to be missed by any Lady A fan. Be there. Book your tickets now.