Shoreline Amphitheatre | Mountain View, California
The legendary 90's Hiphop star – Ms Lauryn Hill is coming to Shoreline Amphitheatre on Thursday 20th September 2018! Here to celebrate her incredible biggest album to date and the one that fans still can't get enough of today! The unmissable Lauryn Hill doesn't take to the road often so if you have the chance, come and make the most of it… it's going to be a beautiful, powerful night of all of her greatest songs – LIVE!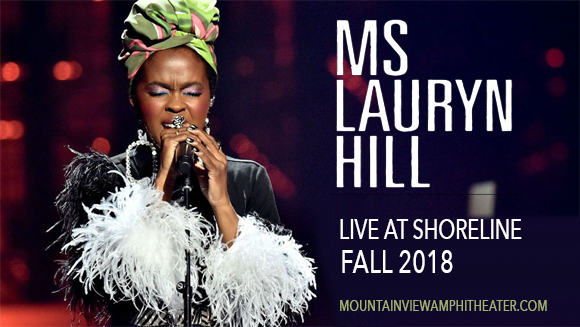 During the 1990's there was one group that stood out from the crowd and defined the Hiphop, R&B era at the time and we could only be talking about the one and only, The Fugees. The incredible band featured a collection of superstar artists in the making, most of which have gone on to be influential solo acts, not just in the US but globally. Lauryn Hill was of course one of them, reaching a superstar status. With her honest, raw and personal lyrics, Lauryn brought to life an album that will never be forgotten, one that is full of chart topping hits and songs that never tire, throughout the years. 'The Miseducation of Lauryn Hill' transformed the world as we know it, bringing a contemporary twist on neo soul with tracks such as "Doo Wop (That Thing" "Ex Factor" "Everything is Everything" and so much more.
With all of these records she took over MTV and every single one of her fans just dreamed of the day that they could witness Ms Lauryn Hill take the stage, well this time, it's not just another chance to catch her live but also an unmissable opportunity to catch all of the songs from the album in concert.
Come and show your support, bring the energy and the excitement as Lauryn Hill will no doubt blow you away, with her sheer skill on the mic, both rapping and singing, doing what she does best!
There's no time like the present to grab tickets and get ready as she stops off at Shoreline Amphitheatre this coming Fall!!