Shoreline Amphitheatre | Mountain View, California
Known for their quirky, interactive, larger-than-life live shows, Phish are headed to Shoreline Amphitheatre on Tuesday 31st August 2021 for a two-day run! Both shows will be utterly unique and filled with all the spectacular musicianship, fun, and color that Phish shows always are! Fans can stick around for a good time and truly soak up the vibes by purchasing a 2 Day Pass, giving them access to both Tuesday and Wednesday's shows!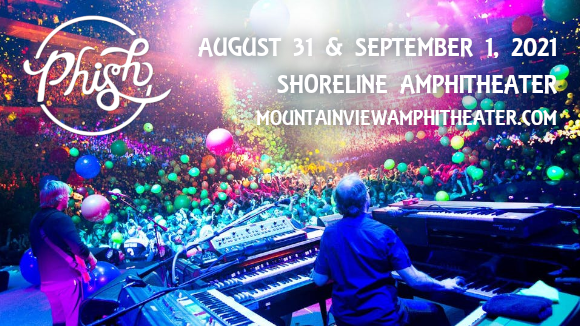 Picking up from where the Grateful Dead left off, Phish are one of the world's best-known jam bands. The group was formed in Burlington, Vermont in 1983 and consists of guitarist Trey Anastasio, bassist Mike Gordon, drummer Jon Fishman, and keyboardist Page McConnell. The band played shows in small venues across the US and released several experimental self-titled cassettes in the mid to late 1980s, but it was a sold-out show at the Paradise Rock Club in Boston in 1989, couple with the release of their debut album Junta a few months later, that served as their breakthrough. Junta includes a studio recording of the track "You Enjoy Myself", which is now considered to be the band's signature song. Although the band has released 15 studio albums to date, and had eight of their singles appear on Billboard's Adult Alternative Songs chart, the group is best known for its interactive live shows, which have earned them a huge cult following and inspired the creation of the Bonnaroo Music Festival in Tennessee, as well as Disco Biscuits' Camp Bisco, Electric Forest Festival, and the Big Ears Festival. In 1998, Rolling Stone described Phish as "the most important band of the '90s." They have performed 64 concerts at Madison Square Garden date (the third-most behind Billy Joel and Elton John) and in 2019, Phish was ranked by Billboard as the 33rd highest-grossing concert touring act of the 2010s.