Shoreline Amphitheatre | Mountain View, California
The queen is back, blessing the world with back-to-back announcements of a brand new album "Queen of Me" and a matching headlining tour in support of her new milestone. The country-pop legend, Shania Twain, will be reigning the stage at Shoreline Amphitheatre on Friday, 26th of May 2023. Sharing a taste of the new record with her new single "Last Day of Summer", the song takes a trip down memory lane of young love that could've been. As she gears up for the release of her sixth studio album this coming February, make sure to save those seats right away as she kickstarts her The Queen of Me 2023 tour by booking your tickets now!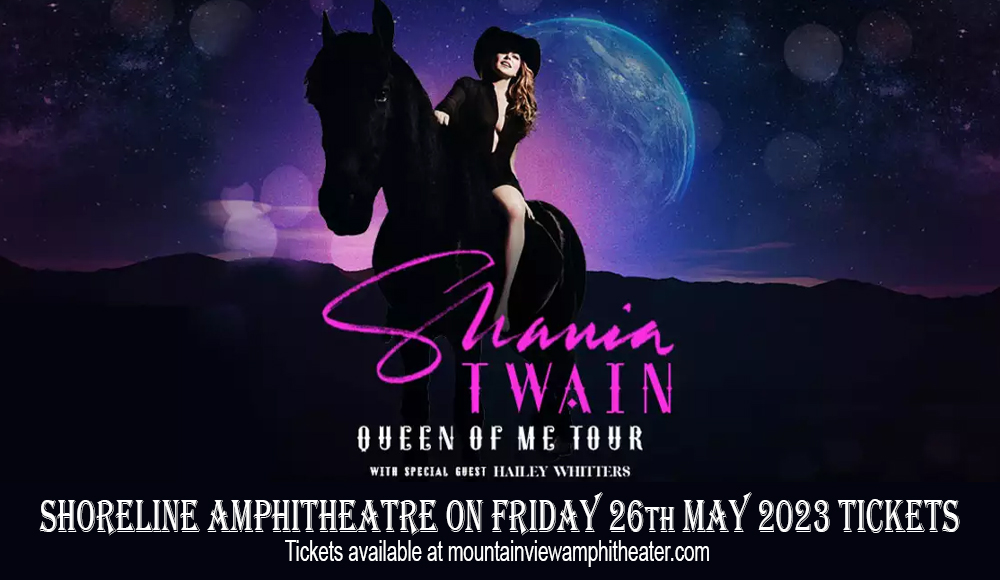 Penned as a country-pop legend for selling over a hundred million records, making her one of the best-selling music artists of all time and the record holder for the best-selling female artist in country music to exist. The Ontario-born singer has released multiple Platinum-awarded singles throughout her career including "That Don't Impress Me Much", "Man! I Feel Like a Woman!", "Any Man of Mine", and "You're Still the One". Following her 2017 comeback album "Now", Shania Twain is geared up to drop her sixth studio album "Queen of Me" this coming February 3rd.
She's definitely still the one, country-pop's reigning queen for her unforgettable hits and distinct artistry. Featuring her new single "Last Day of Summer" that explores young love that could've been, the new album will also feature her previously released singles "Not Just a Girl" and "Waking Up Dreaming", as featured in her very own Netflix documentary special "Shania Twain: Not Just a Girl".
"Queen of Me" is described to be her "most triumphant-feeling body of work; an album about standing in your own power and worshipping yourself". She definitely isn't just a girl, she's a reigning queen who continues to bless and conquer country music.
"These days, I'm feeling very comfortable in my own skin – and I think this album reflects that musically," Shania shared. "Life is short and I want to be uplifted, colorful, unapologetic and empowered. I want to carry a clear message, particularly as a woman, to always remember my power and I hope the songs are a reminder to you, of that same power inside you!"
With an empowering message behind the queen's new record, fans across the world are itching to have their ears blessed with "Queen of Me". With an extensive headlining tour following the album's release, Shania Twain is pumped up to celebrate the milestone with her loving fans like it's the 'last day of summer.
"I want to celebrate this new chapter with you all on my tour! Vegas has been a dream, but I'm ready to be on the road and sing with you, dance with you and have a kick ass night out with you! This one's gonna be a big party – no inhibitions, no conditions, let's get a little out of line!!" Shania shared.
Portion of the proceeds from her shows will be donated to Shania Kids Can which aids promote positive change in children's lives amidst crises and hardship.
Tickets for her 2023 tour go on general sale on Friday, November 4th.
Mark your calendars and book those tickets now!