Shoreline Amphitheatre | Mountain View, California
Nineties rock fans have excellent reason to rejoice because this summer, legendary alternative band Smashing Pumpkins is bringing The World is Vampire Tour across North America! This highly-anticipated outing is set to conquer more than 20 major cities, which includes a coveted date in Mountain View, California! Get ready for the Grammy Award-winning band's massive hits, fan favorites, and new music from their brand new effort Atum: A Opera in Three Acts as they deliver their electrifying set at the Shoreline Amphitheatre on Thursday, 3rd August 2023! The brand new concept album is a continuation of the band's career-defining 1995 album Mellon Collie and the Infinite Sadness! Apart from hits and new music, fans can enjoy exhilarating sets from the show's special guests, Grammy Award-winning alternative icon Stone Temple Pilots and Grammy-nominated rock outfit Rival Sons! If you love rock music, this is one epic show you shouldn't miss! So quickly score your tickets now before it's too late!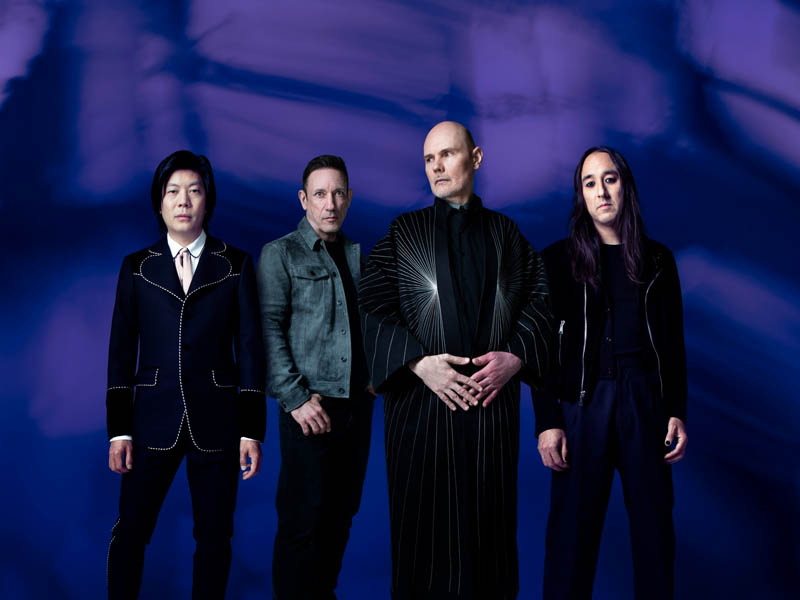 Critically-acclaimed band Smashing Pumpkins made waves during the '90s and notably sold over 30 million albums worldwide. They performed a highly experimental form of alternative rock music with influences from various genres, such as goth, shoegaze, pop, and heavy metal. The band found commercial success upon releasing their sophomore album, Siamese Dream. The 1993 record entered the Billboard 200, peaking at number 10. With incredible singles like "Cherub Rock," "Today," "Disarm," and "Rocket," the effort was defined by critics as one of the finest alternative rock albums of the 1990s."
The band's follow-up album, Mellon Collie and the Infinite Sadness, was released two years later and catapulted their success to new heights. The album topped the Billboard 200 and charted in 20 other countries. The career-defining record spawned the Grammy Award-winning single "Bullet with Butterfly Wings" and several more massive hits, such as "Tonight Tonight," "1979," and "Zero." The album later sold over ten million copies in the U.S., earning a diamond certification. Moreover, the record impressively earned seven Grammy nominations. The same year, Smashing Pumpkins released a single, "The End is the Beginning is the End," for the Batman and Robin official soundtrack. The song won the Grammy Award for Best Rock Performance the following year.
Special guest Stone Temple Pilots is also a commercially successful band with 18 million albums sold worldwide. Like Smashing Pumpkins, the band rose to prominence in the '90s. Led by the illustrious Scott Weiland, Stone Temple Pilots released several chart-performing records, including their eight-time platinum-selling debut album, Core. The 1992 album spawned the classic alternative hits "Plush," "Sex Type Thing," and "Creep." The single "Plush" won multiple awards, including a Grammy Award for Best Hard Rock Performance, an MTV Video Music Award for Best New Artist, and a Billboard Music Award for #1 Rock Song of the Year. The band continued to release several critically-acclaimed albums, including their number 1 album, Purple, released in 1994. In 2013, Linkin Park frontman Chester Bennington took over the lead singer duties due to Weiland's health problems. Five years later, the band brought in a lead singer Jeff Gutt after Bennington's unfortunate passing.
Catch Smashing Pumpkins, Stone Temple Pilots, and Rivals Sons as they deliver their smashing hits at the Shoreline Amphitheatre on Thursday, 3rd August 2023!