Shoreline Amphitheatre | Mountain View, California
Prepare yourselves for one of the most massive punk shows of the year!! It's none other than Sublime With Rome and The Offspring, pairing up for a massive second leg of their tour U.S, running through the month of September and finishing up early fall. The two huge bands are coming to rock the Shoreline Amphitheatre on Wednesday 27th September 2017. Tickets for this event will sell out VERY fast so don't delay in getting yours – book TODAY!!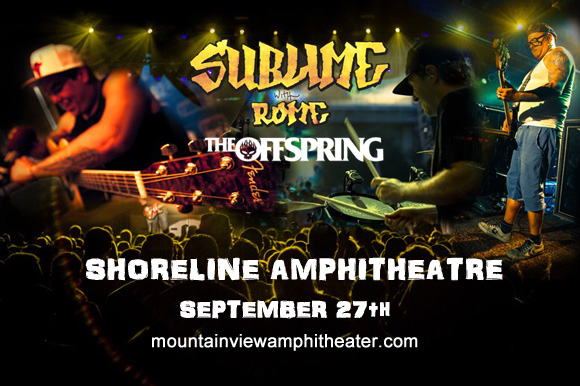 Sublime With Rome is the result of a collaboration between Eric Wilson, former Sublime member, and Rome Ramirez, singer and guitarist. One of the most popular acts in the ska third wave, they saw their self-titled album go multi-platinum no less than SIX times, earning them the title of one of the most influential ska-punk bands ever!! Sublime With Rome are currently promoting their latest album, "Sirens," released in 2015, to positive critical reception, with Rolling Stone magazine writing that the album "stirs up the same hey-whatever mix of reggae, hip-hop and punk that made Sublime shirtless charmers 20 years ago". Fans of Sublime won't be disappointed!!
Formed in 1984 in California, The Offspring had a massive impact upon music and the public in general with their energetic punk-rock sound, and are widely credited alongside their fellow contemporaries Rancid and Green Day for re-injecting punk into the mainstream 90's consciousness. With nine albums so far, the most recent, "Days Go By," from 2012, fans are eagerly awaiting the release of a brand new album!!