Shoreline Amphitheatre Information
Experience Shoreline Amphitheatre: Where the Coolest and Hottest Collide
The venue of any given event holds more responsibility in imprinting a lasting favorable memory of an experience compared to all the other elements comprising that experience. Its location, layout, amenities and service define what can become a profitable enterprise. In particular to Mountain View, California in San Francisco Bay, Shoreline Amphitheatre is a venue that might just make the cut.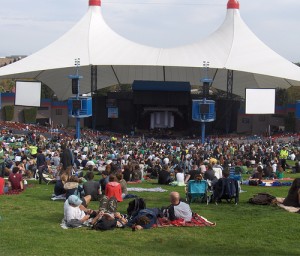 The amphitheater is a sizable outdoor venue that has a capacity of 22,000 seats, including lawn seats. It was built from 1985-1986 in a design that resembles that of Grateful Dead's steal your face image.
The place has become an ideal venue for festivals, concerts, comedy shows and other kinds of gatherings. To name a few, there's the 4th of July celebration, Mayhem Festival, Lollapalooza, Ozzfest, and almost all of the hottest concerts in town. The seats are fixed. Each of it gives enough legroom and ample space for moving around. The seats are specifically laid out to extend up to the stage. This gives a more personal and up-close feel to the viewers.
The hottest popular artists have become regular visitors of the amphitheater and there are also symphonies and orchestras. In terms of music, the venue is suitable for both classical and contemporary artists' live music needs.
The sound system is great considering that the place is an open space. Expect very loud modulation. Viewers seated in the lawn get an almost the same level of experience as that on the reserved seats. Lawn seats are cheaper. Some viewers prefer it since its where most of the action is taking place. Because of the place's strategic layout, it is not hard to let the energy flow from the lawn to the stage and vice versa. To compensate for the distance, wide screens are available at the lawn.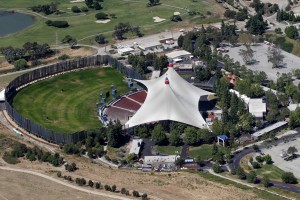 Bathrooms are clean and functioning. Considering that Shoreline Amphitheatre is a remarkably huge venue, parking can become congested. Some regular viewers suggested utilizing parking areas outside the theater. A little trek is more bearable compared to waiting for 30 minutes to your parking slot. A minimum fee is required from parking lot users. As an option, Shoreline has a carpool shuttle. This is a convenient and reliable way of entering and exiting the theater. In this way, vehicular traffic flow is lessened.
Shoreline Amphitheatre imposes rules such as the no can, no bottle, and no alcohol policy. Sealed plastic water bottles are an exception. You can't expect a person not to quench his thirst amidst all the energy that enveloped the theater. Depending on the event, blankets are allowable on the lawn seats. No restrictions are imposed on smoking. Best shows are normally during Fridays, Saturdays and Sundays.
The next time you hear that your favorite music artist will be visiting California Bay for a major concert, expect it to be in Shoreline Amphitheatre; where the hottest live action happens.
For a list of rules and further info on the venue please see the Shoreline Amphitheatre rules.